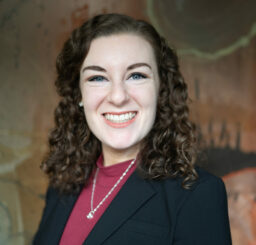 Anna M. Koch represents corporate and individual clients in all aspects of employment law, business law, commercial litigation, and appeals. Anna brings a strong background of business experience, persuasive writing, and oral advocacy to each of her cases, focusing on efficiently and effectively representing each client.
Anna has obtained successful outcomes for her clients as the first-chair attorney in court trials, administrative hearings, and arbitrations, second-chaired jury trials, and argued many dispositive and non-dispositive motions in Minnesota state court.  She has argued before the Minnesota Court of Appeals and written appellate briefs for the Eighth Circuit Court of Appeals, the Minnesota Supreme Court, and the Minnesota Court of Appeals.  She has extensive experience drafting jury instructions, special verdict forms, motions in limine and other pre-trial motions as well as arguing post-trial motions. Anna has successfully represented her clients in pretrial mediation in business, employment, and bankruptcy cases.
As a student attorney, Anna represented four low-income clients through the University of Minnesota Law School's Bankruptcy Clinic, advising and assisting each client with their financial and legal situation. Anna also successfully represented the University of Minnesota Law School at the American Bar Association's national moot court team competition. Anna's strong oral advocacy helped her team advance through the semi-finals at the 2018 regional competition.
Prior to attending law school, Anna earned a Bachelor of Arts in Communication Arts: Journalism, with a minor in Business Administration, at North Central University in Minneapolis, Minnesota. In addition to her coursework, Anna advised numerous business owners on achieving their current and future goals by analyzing each business's corporate structure, financial development, and expansion strategies.
Anna also served as a staff writer for the North Central University newspaper, writing and publishing over a dozen articles on the redevelopment of downtown Minneapolis, the Elliot Park neighborhood, and local campus news. After completing her undergraduate education, Anna worked in corporate communications, writing over 100 internal news articles for a large Minneapolis-based company.
Outside of the office, Anna is an avid dressage enthusiast, competing her horses throughout the Midwest at Grand Prix. Anna also enjoys traveling, hiking, ballroom dancing, and spending time with family.
Practice Areas:
Education:
North Central University, B.A., summa cum laude (2014)
University of Minnesota Law School, J.D. (2018)
Honors:
University of Minnesota Law School Business Law Concentration (2018)
Jurisdictions Admitted:
Minnesota Supreme Court (2018)
U.S. District Court, District of Minnesota (2019)
8th Circuit Court of Appeals (2019)
Professional Associations:
Minnesota State Bar Association